System Requirement
1GHz Intel/AMD processor or above,256MB RAM (512MB or above
recommended),30MB space for installation
File Size

18.59 MB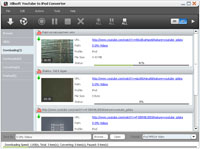 It is the best! Please feel free to download.
Xilisoft YouTube to iPod Converter provides a one-step process to download and convert YouTube videos to iPod/iPhone MP4 format. Additionally, you can save the original YouTube FLV videos to your PC and convert them for your iPod/iPhone anytime. The Xilisoft YouTube to iPod converter gives you the freedom to download YouTube videos from its built-in browser or Internet Explorer鈥檚 right click menu. You can even set the proxy server.


Features:

1. Queue up multiple tasks and the YouTube to iPod converter will process them simultaneously.

2. A built-in browser is provided to browse and search for YouTube videos, then simply drag and drop the videos for download.

3. Start downloading and converting YouTube videos directly from Internet Explorer鈥檚 right-click menu.

4. Set the proxy server in the program to start downloading YouTube videos.

5. Set the priority level, max tasks and download speed. Add as many YouTube videos as you want and download and convert the YouTube videos to iPod MP4.

6. Several actions can be performed after the job is complete: shut down, hibernate, standby and quit.

7. Automatic update checks at time intervals of your choice.

8. Create a task and specify it to start automatically or manually; view the tasks in table or icon mode; sort tasks by title, file size, status, or output format; view information about downloaded videos; choose interface language and skin.

9. Install Xilisoft toolbar.